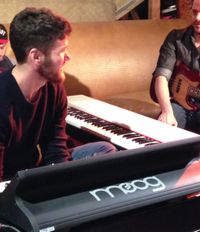 Kevin Kozol: Piano/Keyboards
Kevin Kozol is a pianist, composer and educator that is rapidly gaining both national and international recognition.  Originally from Chicago, Kevin is one the founding members of the jazz fusion trio, Spare Parts, which is currently signed to Ropeadope Records. The trio's last album, "Warehaus West Sessions, Vol.1," which received 5/5 stars in UK Vibe, features Fareed Haque, Bill Dickens and Rajiv Halim.  Spare Parts has performed major festivals and venues both nationally and internationally over the years, including Peru Jazz Festival (Lima), Chi-Town Jazz Festival, Jazz Showcase, Andy's Jazz Club, Dazzle Jazz, Cliff Bells, House of Blues, Metro, Summer Camp Music Festival, Wakarusa Music Festival, and Congress Theater to name a few. Over the years, Spare Parts has shared the stage with musicians such as Wayne Krantz, Keith Carlock, Nate Wood, Victor Wooten, Fareed Haque, George Clinton, Lenny Pickett, Marco Benevento, Stanton Moore, Liquid Soul, The Jazz Mandolin Project and even Snoop Dogg. 
In addition to Spare Parts, Kevin is currently touring/recording with guitar virtuoso, Fareed Haque and the Flat Earth Ensemble. The group recently recorded a track for the Pat Martino tribute album on HighNote Records, "Honoring Pat Martino, Volume 1". This record features some of the world's greatest living guitarists including Russel Malone, Peter Bernstein, Oz Noy, Adam Rogers, Kurt Rosenwinkel, Dave Stryker and more! Throughout the years, the group has performed festivals/shows across North America, China, and Canada; including, Chicago Jazz Festival, Blue Note Beijing, Glen Ellyn Jazz Festival, Green Mill, Dazzle Jazz, Savannah Jazz,  and Corazon Arts Center.  While playing with Fareed Haque, Kevin has collaborated and performed with Grammy award winning musicians such as Indian percussionist, Vicki Vinayakram, V. Selvaganesh, and Paul Wertico. He has also shared the stage with jazz greats such as Javon Jackson, Bobby Watson, Ari Brown, and George Brooks.  Kevin can be heard playing piano on the upcoming Fareed Haque and the Flat Earth Ensemble album which will feature an all star cast of musicians including the great Paul Wertico on drums.  This record is a tribute to great Haitian composer, Frantz Casseus. Kevin also be heard playing Wurlitzer and Moog on a record that will be coming out on HighNote Records where the group tackled the classic fusion album, "Joyous Lake,"  by the late great guitarist Pat Martino. 
Kevin is currently an adjunct professor at Harold Washington College where he teaches music theory/aural skills, group piano, and private lessons. Outside of the college, Kevin is an active clinician around the Chicagoland and Metro Detroit areas and has worked with the Illinois Music Educators Association for many years. He has given numerous master classes at some of the most highly acclaimed schools across the country. Kevin is the owner and founder of House Call Music LTD, which is a music teaching service in the Chicagoland and Metro-Detroit areas that provides high quality music instruction in the comfort of your own home. 
Kevin was an endorsed Moog artist for several years and uses all vintage/ analog equipment in live performances including a Wurlitzer 200a, Fender Rhodes (Mark II), Honer Clavi C, and Moog Little Phatty..